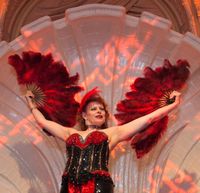 Prima Diva

A co-founder of The Boston Babydolls (and therefore of The Boston BeauTease), Miss Murray is an internationally-recognized fan dancer and instructor.  She is founder and headmistress of the Boston Academy of Burlesque Education, and was named one of Boston's Best Dance Instructors of 2012.  You can read her wit and wisdom in her blog.  Signature Acts: My Room;  French Champagne; Midnight Bath; Harlem Nocturne.  She originated the role of "The Diva" in The Wrathskellar.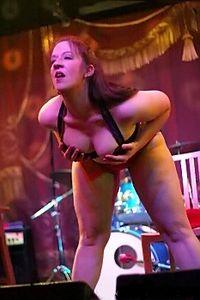 Lead Choreographer

When not engaged in high-tech hijinks, Betty studies a wide variety of physical arts, including Indian classical dance and kalaripayattu, an Indian martial art.  Nicknamed 'The Towering Inferno' by Willy Barett, Betty is well over six feet tall in her heels and vintage hair styles.  She's best known for her big smile and her duets with inanimate objects.  Signature Acts: The Geek (various); Betty, It's Cold Outside (Brrrlesque; V for Vixen); You're The Boss (Madame Burlesque); Someone to Watch Over Me (various).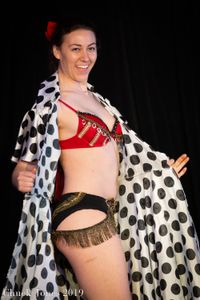 The newest member of the troupe, Ava is a triple threat – a stripteaser, a tap dancer, and a talented costumer! Ava joined the Apprentice Program in February of 2018 and has been our Valentine ever since!  She became a full member of the troupe in December of 2018.  You've seen her as a naughty school girl, a dancing banana, and an ice cream lover.  Signature Acts: Ice Cream Man; Good Morning Little Schoolgirl; The Spy

Impresario, Co-Founder
"Boston's King of Burlesque", Scratch is the perennial Master of Ceremonies for
The Boston BeauTease
, as well as the creative force behind most of our shows and many of our most popular acts.  A magician and ocassional singer, Scratch earns his keep off-stage by acting as agent for the rest of the troupe.  He is the author of 
Madame Burlesque
,
Unlucky in Love
, and 
The Wrathskellar
, for which he originated the role of "Herr Bücher". 
Signature Acts:
 Urban Legend; Martini Time; The Vanishing Bandana; Is You Is (or Is You Ain't?) My Baby.