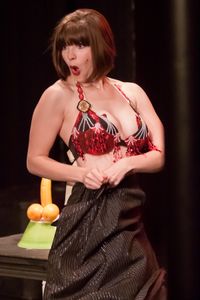 A bumpin', grindin', bad girl, Brigitte was a supporting player in Madame Burlesque (2011) before becoming a full member of the troupe later that year when she took the role of "The Broad" in The Wrathskellar and made it her own.  Brigitte is best known for her dirty stripteasing and her tap dance...sometimes both at once.  Signature Acts: Alcohol (The Wrathskellar); Still Life (Fine Art of Burlesque); In the Mood (various); Let's Misbehave (Unlucky in Love); The Spinach Song (various).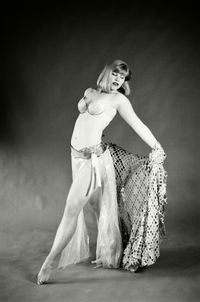 Evie joined the then-Boston Babydolls in 2010 when she originated the role of "The Innocent" in their dark cabaret, 
The Wrathskellar
.  Shedding her innocence, she went on to play "The Martinet" in
The Wrathskellar
of 2012 and 2015.  Don't let her girl-next-door appearance fool you, she's a powerhouse on-stage! 
Signature Acts:
 Tiger Rag (
Madame Burlesque
); Man with the Golden Arm (
Unlucky in Love
); Black & Tan Fantasy; Harlequin Romance (with Devora Darling).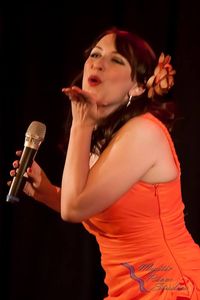 The baby BeauTeaser, Stella is the newest member of the troupe.  She was cast as "The Innocent" in 
The Wrathskellar
 in 2011 and 2012, officially becoming a Boston Babydoll in fall 2012.  A triple-threat, Stella wows audiences with her dance, singing, and comedic timing.  
Signature Acts:
 Burlecue (various); I Hate Men (various); Mustache Dance (with Brigitte Bisoux, 
Bod of Avon
); Moonglow (in which she gets molested by a jacket, various).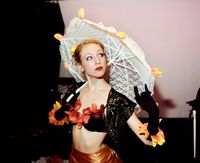 Devora's first appearance – in 
French Kiss
 in April 2010 – highlighted her ballet background and her sense of humor, but despite her perpetual smile, she is best known as the originator of "the Lost Girl", one of the haunted denizens of 
The Wrathskellar
.  
Signature Acts:
 Stripteaser's Education (
Madame Burlesque
);  Snowfall (
Brrrlesque
); The Man I Love (
Unlucky in Love
).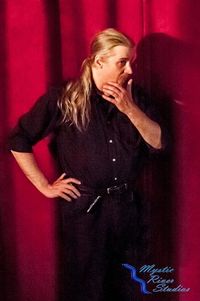 The unseen member of The Boston BeauTease, Mr. Heinlen received a B.S. from Indiana University of Pennsylvania in Communication Media in 1997 with specializations in video direction and lighting design. He concurrently spent nine years doing in-house video production for E. I. DuPont de Numours, and spent a year as the master electrician for a Community theater in Indiana PA.  In addition to his frequent work with The Boston BeauTease, he is also the lighting lead for
The Great Burlesque Exposition
and a member of the technical crew at the annual 
Ig Nobel Awards
.