Welcome (back) to Taste o' Burlesque!
Our first show!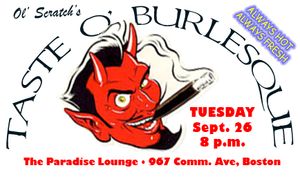 The first Taste o' Burlesque show took place on September 26, 2006 at The Paradise Lounge (which was the front room of the Paradise Rock Club before they became an Irish bar and stopped doing shows...before they re-renamed the place The Paradise Lounge) and had nine participants. Back then there weren't nearly as many opportunities for burlesque performers as there are now – especially if you were just starting out.  We didn't think that was a Good Thing, and since we wanted to help grow the burlesque scene, we created ToB as a monthly showcase for newer performers, people who only wanted to perform every once in a while, and the fine folks who visited Boston looking for a place to perform.
Thirteen years later, there are a lot more opportunities for the aspiring burlesquer, but it can still be difficult to find a friendly place to perform.  At Taste o' Burlesque any burlesque performer is welcome -- regardless of experience, performance style, gender identification, or affiliation: try out a new number (or new audience!), bring back an old favorite, or make your burlesque debut! We'll have some fun prizes too!
A couple of rules:
You must sign up below. There are a limited number of performance slots, but we'll do our best to get everyone into the show.
All acts must be under six minutes.
Performers must be at the venue before 6:00pm the day of the show.
No fire, liquids, or mess on-stage.
No nudity
No hate speech, bullying, or other anti-social behavior, either in your act or off-stage. This is a welcoming and supportive environment for all participants.
Perform at T.o.B. on May 31, 2020
Name: whatever you want us to call you. 
Email: We'll send a confirmation within 48 hours.  If you don't get one, please email us.
Phone Number: in case we need to get ahold of you immediately
Name of Song/Songs: we're going to try and avoid duplicates. If someone else has submitted before you with the same song, we'll be in touch.
Max. Length: In order to accept as many people as possible, your entire act (from the time you get on the stage until the time you exit it) must be no longer than six minutes.
About Your Act: How would you describe? Is it funny? Scary? Sexy? Based on an obscure Edgar Alan Poe short-story or a manga character? Need a ladder on-stage? Uses giant feather fans? Award-winning? Brand-new act? Tried and true?
About You: Why do you want to be in the showcase? Ever done this before? Taken classes? Anything else you want us to know?